Personal Training

"There's no better training available anywhere! That's why we keep coming back." — M.O. (Information Technology)
Class Length: 2 hours of individual instruction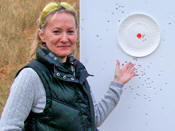 Personal Training is everyone's ideal for firearms instruction. It's individualized teaching: just you, and Janet, and Joe in the perfect setting for learning how to work with guns. It's all here—everything that's needed, within easy reach, in an environment carefully designed for this purpose.
We'll work with you alone or with a significant other. In fact we've held personal training sessions with fathers and sons, mothers and daughters, old married couples and newly engageds, and other relatives and friends. We've been birthday gifts, engagement gifts, Christmas presents, and an unforgettable way to commemorate significant events with a gift that empowers people. Friends give personal training with us as the most practical way to celebrate their friendship.
The way we teach is a celebration of life and a commitment to living. We'll work with you to help you learn what you want and need to learn so that you are empowered. Ours is the fastest, most economical way to learn because our focus is exclusively on you.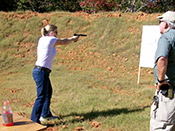 We do personal training sessions with experienced shooters as well as complete novices. It's an especially good way for already competent shooters to make dramatic improvements quickly. As one CWP holder wrote us right after a single two-hour session with us, "Thanks for my Personal Training today! I used to waste hundreds of rounds at the range accomplishing absolutely nothing! I look forward to taking the Personal Protection courses from you."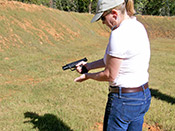 Personal training the way we do it is a great way for novices to overcome a fear of firearms. Decades of experience resulted in our developing special techniques to diagnose and fix individual problems. We've helped many people accomplish their goals for many years. We enjoy doing it.
People new to handguns or uncertain about shooting often take personal training with us before enrolling in a CWP and Basic Pistol class. Other people take personal training with to extend the value of a class they've completed—often after classes they've taken with other instructors.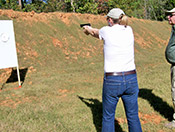 Personal training is also useful when you really want to learn how to use a shotgun or rifle for home defense. We've helped people who use shotguns for sport and rifles for hunting learn how to use them for protection. We also help students learn how to shoot on the move and how to make hits. Our goal is not to turn you into the neighborhood warrior or lead you into some other fantasy. We want to help you protect yourself and your family.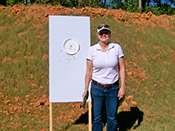 We'll be happy to arrange personal training sessions with you for mutually-convenient dates and times. We're usually able to hold them on weekdays as well as on some weekends. By prior arrangement we can lend you a handgun, rifle, or shotgun. Of course if you use our firearm you must use the ammunition we provide and pay us for it before shooting. We want to make sure that the ammunition used in our guns is the same ammunition we would use ourselves. Each personal training session is two hours during one of the following time slots on a date we arrange with you:
Personal Training Daily Time Slots

9:00 A.M. - 11:00 A.M.
1:00 P.M - 3:00 P.M.
11:00 A.M. - 1:00 P.M.
3:00 P.M. - 5:00 P.M.

Let us know if there's a more convenient time slot for you. We're easy. We'll work with you.

Email us for more information or to arrange your personal training. Include your local telephone number(s) so we can call to answer your questions, determine your needs, and reserve a mutually-convenient time for your personal training.